Living with psoriasis can be hard, but there are treatments available to help manage the symptoms. One of those treatments is Skyrizi (Risankizumab), a biologic systemic therapy prescribed by doctors. Not sure if this is the right treatment for you? Let's take a look at what makes Skyrizi so effective when it comes to treating psoriasis. 
How Does Skyrizi Help Treat Psoriasis? 
Skyrizi works by targeting an important piece of the immune system—the IL-23 pathway. This pathway helps to regulate the body's natural defense against infection and other foreign substances, but in individuals with psoriasis, it can become overactive and lead to skin cell growth. By blocking this pathway, Skyrizi can keep inflammation from developing on the skin, helping individuals living with psoriasis deal with their symptoms more effectively. 
What Are The Benefits Of Skyrizi? 
The benefits of Skyrizi are vast. Firstly, it has been proven to reduce skin lesions in as little as four weeks and even clear up symptoms completely in some people after twelve weeks of treatment. Furthermore, Skyrizi has been found to be effective at reducing itching, scaling and overall discomfort associated with plaque psoriasis even in those who have failed other treatments or experienced no results from them. Additionally, clinical trials have shown that patients taking Skyrizi experience an improvement in their quality of life due to fewer flares throughout the course of their treatment.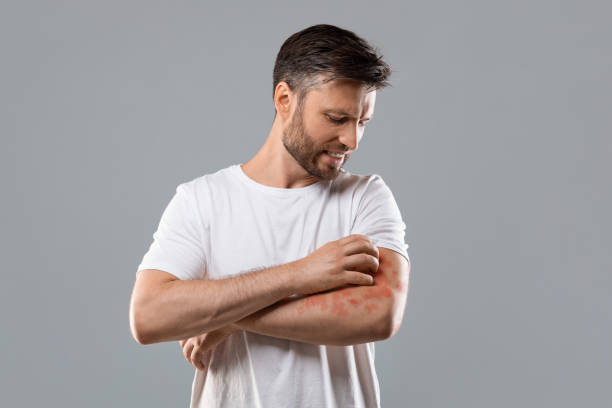 This innovative drug also provides a more convenient treatment option than some traditional methods due to its once-monthly dosing schedule which makes it easier for patients to stick to their regimen without worrying about missing doses or having significant gaps between treatments. Moreover, it does not require any additional laboratory tests or monitoring compared with other existing treatments which can make it a much more cost-effective option for those with plaques psoriasis.
Finally, many people report feeling a renewed sense of confidence and self-esteem as a result of taking Skyrizi due to the noticeable improvement in their skin condition within just a few weeks. Clear skin can lead to improved social interactions and even greater success professionally since people are able view one's appearance without being hindered by visible signs of disease or redness from irritations. Sufferers from moderate to severe plaque psoriasis find this effect particularly beneficial since they often experience feelings of embarrassment and isolation due to the nature of their condition.
What Are The Costs/Availability?
Skyrizi is not currently available over the counter; instead, you will need a prescription from your doctor before you can purchase it. As far as cost goes, most insurance plans will cover at least part of the cost; however, there may still be out-of-pocket expenses depending on your individual plan. 
Additionally, if you do not have insurance or your insurance does not cover Skyrizi's cost entirely, there may be assistance programs available from your healthcare provider or from the manufacturer itself that could help make it more affordable. 
For those who want a more convenient way of purchasing Skyrizi in Canada, USA Script Helpers offers a free toll free number 1-888-646-7749 that customers can call anytime to place orders or ask questions about our medications. 
We strive to provide the best customer service experience possible and ensure that each customer is taken care of efficiently. When it comes time for ordering Skyrizi from Canada choose USA Script Helpers for fast delivery, great prices, secure payments and outstanding customer support!
Conclusion
Taking care of yourself when living with psoriasis can be tough—but thankfully there are treatments available that can help reduce your symptoms and improve your quality of life dramatically! 
Skyrizi (Risankizumab) is one such option that has been proven effective in helping individuals manage their psoriasis thanks to its ability to target an important part of the immune system which helps regulate inflammation on the skin. 
With its fast-acting results and long-lasting effects combined with its affordability thanks to assistance programs available from healthcare providers or manufacturers—it's no wonder why so many people suffering from psoriasis choose Skyrizi as their go-to treatment!