Tremfya is a groundbreaking  medication that can help treat moderate to severe plaque psoriasis. But what exactly it is, and what do you need to know before taking it? In this article, we'll explore the most important information about this psoriasis medication and how it can help those living with psoriasis.
Overview Of Tremfya
Tremfya is a prescription medicine used to treat adults with moderate to severe plaque psoriasis who are candidates for systemic therapy or phototherapy. It is a biologic medication, which means it is made from living cells. It works by blocking certain proteins in the body that can cause inflammation and skin cell growth.
It helps reduce the symptoms of plaque psoriasis by decreasing inflammation and reducing the number of skin cells that form plaques. It may also help decrease itching and improve the appearance of your skin. The most common side effects of Tremfya include upper respiratory tract infection, headache, injection site reactions, diarrhea, and joint pain. It's important to talk to your doctor about any side effects you experience.
How Does Tremfya Work?
It works by blocking a certain protein in the body called interleukin-23 (IL-23). This protein plays a role in triggering the inflammatory response that causes plaque psoriasis. By blocking IL-23, Tremfya can help reduce inflammation and clear skin.
It is given as an injection under the skin (subcutaneous injection) every 8 weeks. In clinical studies, people experienced significantly clearer skin after 16 weeks of treatment with Tremfya compared to those who received a placebo. While results vary from person to person, many people had long-lasting improvements in their psoriasis symptoms with continued use of Tremfya over time.
Who Can Take Tremfya?
It is not suitable for use in children or people who are allergic to any of its ingredients. This medication should only be taken after a healthcare professional has evaluated the patient and determined if it is appropriate for them.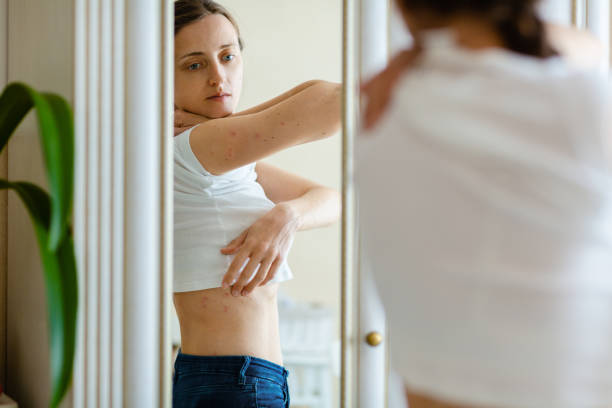 It should not be used by those who have a bacterial, viral, or fungal infection, or anyone who is pregnant or planning to become pregnant. It should also not be used by those who have active tuberculosis (TB) or a history of recurrent infections. Furthermore, people with heart failure, diabetic retinopathy, or an immunosuppressive disease should not take it without consulting their doctor first.
People using it may experience side effects such as fever and joint pain. If these symptoms persist or worsen while using the medication, they should contact their doctor immediately. Additionally, patients must inform their doctor of all medications they are currently taking before starting treatment with Tremfya.
Benefits Of Taking Tremfya
Tremfya is taken as an injection once every eight weeks and is easy to administer at home, making it convenient for those who want to avoid doctor's visits. It has been proven safe and effective for long-term use and offers benefits such as rapid symptom relief, improved quality of life, less time spent on treatments, and even potential remission in some cases. Additionally, Tremfya has been shown to significantly lower levels of PASI-75 (Psoriasis Area Severity Index) scores over time, resulting in more clear skin.
Side Effects Of Taking Tremfya
It is important to be aware of the potential side effects of taking Tremfya. While this medication has been shown to be generally safe and effective, there are some potential side effects that should be monitored. The most common side effects include cold-like symptoms such as a sore throat, runny nose, coughing, and fever. Other more serious side effects may include allergic reactions, infection of the eye (uveitis), increased blood sugar levels, and an increased risk of developing certain types of cancer. It is important to contact your doctor if any of these symptoms occur.
In addition to these side effects, it is important to note that it may interact with other medications or supplements you are taking. Before starting a new medication or supplement, always consult with your doctor first. They will be able to advise you on the best way forward for your individual situation.
Costs And Insurance Coverage For Tremfya
It's important to know the costs and insurance coverage associated with this medication. Your doctor or healthcare provider may be able to provide information about programs that offer financial aid for prescription medications. Additionally, you can check online for discount cards and Tremfya coupons from drug manufacturers that can help reduce your out-of-pocket expenses. It's also possible to find discounts from online pharmacy partner and other retailers that sell generic versions of Tremfya at a lower cost than brand name medications.
Conclusion
In conclusion, Tremfya is a groundbreaking medication for individuals struggling with psoriasis, offering hope and relief from the burdensome symptoms of the condition. If you or a loved one are seeking to buy Tremfya online, USA Script Helpers is here to assist you. Our trusted online pharmacy provides a convenient and secure platform to access this life-changing treatment from the comfort of your own home. Don't let psoriasis hold you back any longer – take the next step towards healthier skin by visiting USA Script Helpers today.