In the realm of weight management and type 2 diabetes treatment, Saxenda and Semaglutide are two commonly discussed medications. Understanding the difference between Saxenda and Semaglutide is crucial in determining which medication is most suitable for specific health goals and conditions. In this blog post, we will delve into the characteristics, uses, and key distinctions of Saxenda and semaglutide, shedding light on these medications to help individuals make informed decisions about their healthcare journey.
Understanding Saxenda
Saxenda is an injectable diabetes medication which is also used to help people with obesity and who are overweight. Saxenda works by affecting the hormones that control hunger and satiety. It is a GLP-1 receptor agonist, meaning it activates the GLP-1 receptors in the body which helps reduce food cravings and appetite.
Saxenda is also used to help improve glucose levels in those suffering from this condition. It does this by helping the pancreas release more insulin when needed and decreasing the amount of sugar released into the bloodstream after meals. Saxenda can also be used to decrease cholesterol levels and reduce the risk of cardiovascular disease.
What is Semaglutide?
Semaglutide is a once-weekly injectable medication used to treat adults with type 2 diabetes and obesity. It helps lower blood sugar levels in adults who have not been able to control their diabetes with other medications. Semaglutide works by stimulating insulin production and reducing the release of glucose, which can help lower blood sugar levels. It can also reduce body weight by decreasing appetite and increasing feelings of fullness.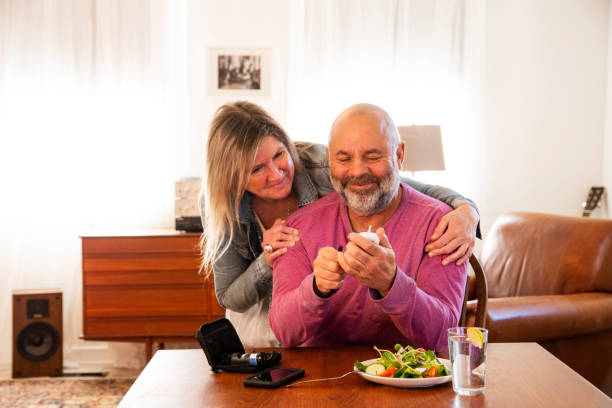 Semaglutide has some advantages over other diabetes medications, including its long-term effectiveness and low risk of hypoglycemia. However, it may cause side effects such as nausea, diarrhea, constipation, and headache. Additionally, it may increase the risk of pancreatitis and thyroid cancer when taken for longer periods of time. It should be used only under the supervision of a doctor.
Mechanism Of Action
Saxenda and semaglutide are both drugs that have been used to treat obesity and diabetes. They both work by stimulating the release of hormones from the pancreas, which leads to a decrease in hunger and an increase in satiety. However, their mechanisms of action differ slightly.
Both drugs are effective at promoting weight loss and controlling blood sugar levels, but semaglutide has been found to be more effective than Saxenda at decreasing hemoglobin A1C levels. Additionally, it may provide long-term benefits such as improved glucose control and reduced risk of complications associated with diabetes.
Side Effects And Interactions
Saxenda has been known to cause nausea, diarrhea, constipation, headache, vomiting, decreased appetite, indigestion and fatigue. In addition to these side effects, it has also been known to cause a decrease in blood sugar levels. It is important to note that all of these side effects are usually mild and transient.
Semaglutide can cause nausea, diarrhea, constipation, headache, vomiting and a decrease in appetite. It can also cause an increase in heart rate or pulse as well as an increase in blood pressure. Additionally, it may lead to an increase in cholesterol levels.
Here is a list of potential side effects associated with Saxenda and Semaglutide:
Nausea

Diarrhea

Constipation

Headache

Vomiting

Decreased appetite

Indigestion

Fatigue

Decreased blood sugar levels 

Increase in heart rate/pulse 

Increase in blood pressure 

Increase in cholesterol levels 
Although both drugs have similar side effect profiles they differ when it comes to interactions with other medications. Saxenda can interact with certain antidiabetic medications while Semaglutide can interact with certain antihypertensive medications. Therefore it is important for patients taking either medication to review their medication regimen prior to starting treatment with either drug to ensure there are no potential drug interactions.
Buy Saxenda and Semaglutide Online at USA Script Helpers
If you are looking to buy Saxenda and Semaglutide, an effective medication for managing blood sugar levels, USA Script Helpers is a reputable source to consider. USA Script Helpers is a licensed pharmacy partner service provider that helps patients access affordable medication. They work with trusted pharmacies to provide genuine medication at a fraction of the cost compared to traditional pharmacies. 
With USA Script Helpers, you can conveniently purchase Saxenda and Semaglutide online and have it delivered to your doorstep. Plus, their customer support team is available to answer any questions or concerns you may have. So, if you need Saxenda and Semaglutide to manage your blood sugar levels, consider purchasing from USA Script Helpers for a hassle-free and affordable buying experience.
Conclusion
In conclusion, Saxenda and Semaglutide are both medications used in the treatment of obesity. They both work by helping to reduce appetite, leading to a decrease in food intake and ultimately weight loss. Both medications have side effects and interactions that should be monitored closely. 
Ultimately, making an informed decision about which medication is best for you requires careful consideration of all available information about Saxenda and Semaglutide. With this knowledge in hand, you'll be able to make an educated choice that can help you reach your weight loss goals safely and effectively.